2022 Wholetime Firefighter Recruitment
7 days left
Recruiter

Location

Warwickshire County Wide

Closes

22 Aug 2022

Job Ref

RA0003892

Sector

Job Type

Contract Type

Working Pattern

Hours

Site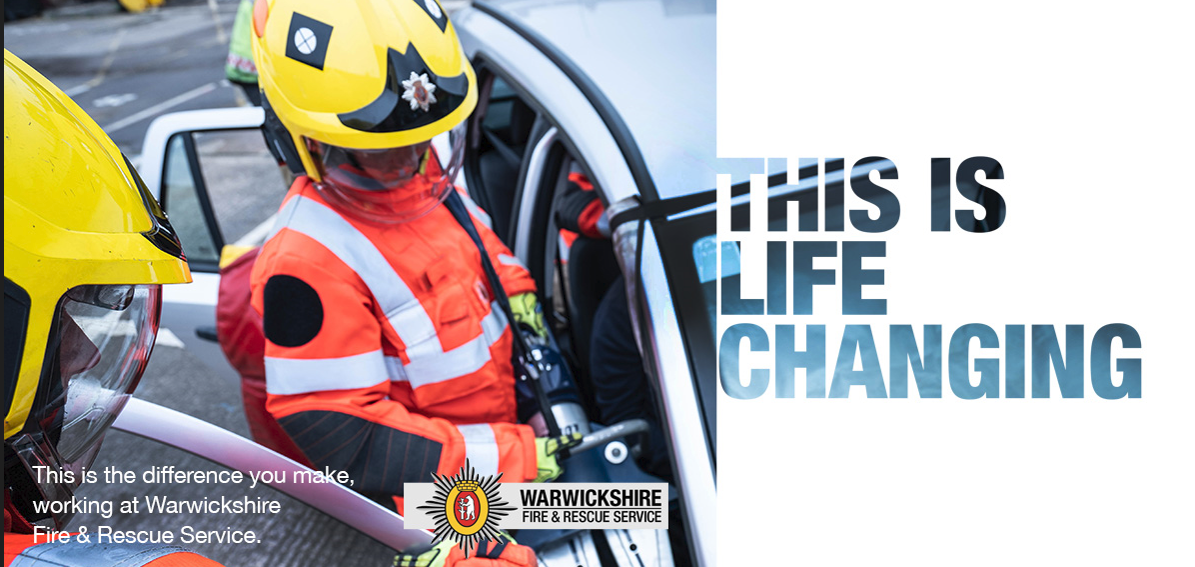 Wholetime Firefighter
 
Trainee (Phase 1): £24,191
Development (Phase 2) £25,198
Competent (Phase 3) £32,244
The period from Trainee to Competent may be a period of 2 years.
Working pattern: Wholetime Firefighter, Full Time, Countywide across various shift systems
Click here to view the Wholetime Firefighter candidate pack.
Warwickshire Fire and Rescue Service's firefighters play a huge part in  in making Warwickshire the best it can be now and into the future. Our mission is the keep people safe in their homes, their environment, their workplace and whilst they are travelling through Warwickshire. Members of our community's value the services we offer, and we are recruiting new members to our great team. We support our communities by reducing risk through Prevention, Protection and Response..
You will need strong values and behaviours, a strong desire to support the local community, an enthusiasm for working as part of a team, and a passion to learn and develop new skills.
The role of a modern Firefighter is wider than responding to emergencies. Some of the other areas of work include:
Safe and well checks for our community
Educating young drivers to help minimise the risk of accident and injury
Educating children through our dedicated school's programme.
Workplace fire safety inspections to help reduce risk across the Warwickshire
Supporting our blue light colleagues in the Ambulance Service and Police Force, from dealing with medical emergencies or searching for missing people to dealing with Road Traffic Collisions
Road and Fire Safety presentations at schools and local events
Rescuing both people and animals when they need us most, wherever they may be. These might be rescues from height, confined spaces or from the water
Working with a range of partners such as the NHS and voluntary sector to improve community safety.
As part of your development, you will learn new skills and techniques that help keep you, the team, and the community safe. Firefighters learn a great deal throughout their career especially during the development phase, successful applicants will need to be committed to their personal development.

Fitness is important within the Fire and Rescue Service, to support yourself in this journey and for an insight into the role related tests please visit our Fire Fit Webpage.

We are looking for people who share the Service values and who continually demonstrate these in their own behaviours:
 
Strive to be a high performing and collaborative individual
Be accountable
Putting our communities first by being customer focused
Build trust by acting with dignity and respect
Demonstrate leadership and integrity
Promote equality, diversity, and inclusion
As a member of Warwickshire Fire and Rescue Service, you'll support communities and make a real difference to people's lives.
 
It's an exciting time to be a part of our Service. If you are interested in a career that provides varied work activities, supported by training and development opportunities, then a career within Warwickshire Fire and Rescue Service is for you.

Schedule of events
 
Application open - 25th July 2022
Application close - 22nd August 2022
Online tests – Between 30th August & 27th September
Values based assessments – Between 10th October & 21st October
Role related tests – Between 31st October & 11th November
Values based interviews – Between 21st November & 2nd December
Medical – 12th December onwards
Fitness test and PPE fitting – 14th December
Initial training course start date – 10th April 2023
 To apply for this vacancy please click on the 'Apply' button.
Our method of application is online, please note, CVs should not be submitted unless asked to do so.
If you are unable to apply using the 'Apply' button please contact the Recruitment Centre on hrandpayroll@warwickshire.gov.uk including your contact details and any relevant screenshots.
You will be notified of our shortlisting decision via email, so please check your email on a regular basis after submitting your application.  
As part of being a Disability Confident employer we guarantee to interview anyone with a disability whose application meets the minimum criteria for the post. By 'minimum criteria' we mean that you must provide us with evidence in your application form which demonstrates that you generally meet the level of competence required for each competence, as well as meeting any of the qualifications, skills or experience defined as essential in the person specification.  
Should you require application forms in an alternative format / language or any adjustments to be made throughout the application process or upon appointment, please contact hrandpayroll@warwickshire.gov.uk  and we will make every effort to meet your specific requirements. 
Warwickshire County Council (WCC) is committed to equality of opportunity for all employees and is keen to address areas of under representation in its workforce, this is because we really understand the importance of different voices, experiences, perspectives, and backgrounds within our workforce. Therefore, we strongly encourage applications from members of underrepresented groups. WCC has a number of staff network groups which provide peer support and safe spaces for employees who hold these and other identities. See more.
Similar jobs
Warwickshire County Wide
£24,920 - £27,514
Warwickshire County Council

Warwickshire County Wide
£22,571.00 - £24,920.00
Warwickshire County Council

Warwickshire County Wide
£24,920.00 - £27,514.00
Warwickshire County Council
More searches like this